Fashion doesn't have to break your bank account. You can even add a touch of your style and personality to the clothes you wear by making them yourself. With this tutorial on how to sew a skirt, people will swoon over at how creative you are. 
You can make this cute skirt with a simple elastic waist in an hour so. Also, you can customize its length by using your measurements and your favorite fabric color or print. To make it even something very unique, consider embellishing it with lace or pompoms. 
So let's get started!
Supplies You'll Need
Fabrics
The best fabric for making skirts is a soft fabric with some drape. Fabrics with drapes will not add bulk. Instead it will flatter and hang well. These include:
Cotton or cotton blends, such as quilting cotton, chambray, seersucker, cotton voile or light denim
Linen
Rayon
Elastic
You will also need 3/4 inch elastic for the waist of your skirt.
There numerous types of elastics available on the market. However, the best to use for skirts is either woven or knitted. These elastics will not narrow when stretched. If you want your skirt to feel more comfortable on your skin, look for non-twist elastic.
Measurements
When measuring yourself, start at your hips and waist. To get accurate results, make sure to use soft fabric tape. Cheap plastic tape measures can stretch out and often provide inaccurate measurements.
Measuring Your Waistline
Simply measure where you intend to wear it. Sometimes wearing your skirt a little lower than your actual waist is more comfortable.  
Length Measurements
Additionally, measure from your waist to where you would like the skirt to end. You can easily do this by holding tape measure at your waist and let it drop down to where you would like the skirt hem to stop. You may also consider grabbing a skirt from your closet to compare the length.
How To Make The Pattern Of Your Skirt
For this simple skirt pattern, you need to cut two rectangles.
Width (Hip/2 x Volume factor)
For a regular skirt, use a volume of 1.5
For a wide skirt, use a volume of 2
For an extra-wide skirt, use a volume of 3
Remember that the width of the fabric you purchase may determine how much volume you can add to the skirt.
Usually, a volume of 1.5 to 2 fits better into most fabric widths.
Length (Desired length + 2.5 inches0
The 2.5 inches is added to allow for the elastic casing and the hem that we will create.
Step-By-Step Instructions On How To Sew A Skirt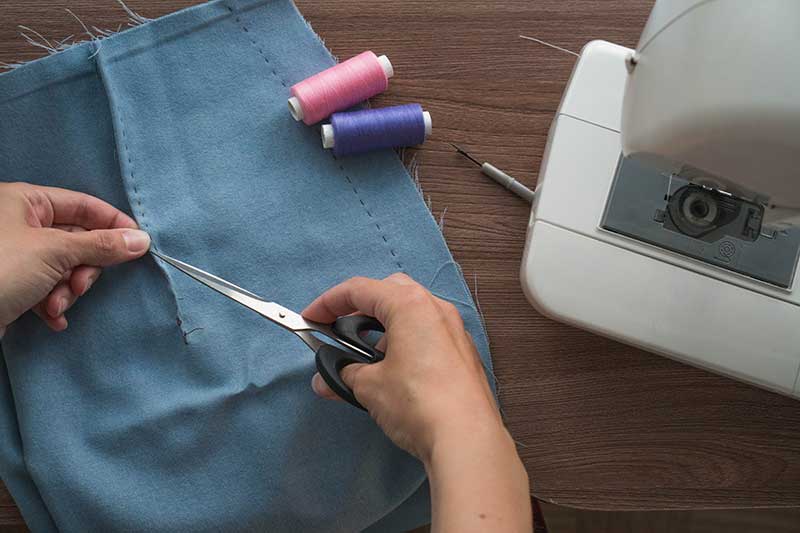 Step 1: Pre-Wash Your Fabric
Make sure to pre-wash your fabric first to prevent it from shrinking or for the color to bleed later on. Although this can be time-consuming, it is always worth the extra step when you are doing any sewing project.
Step 2: Side Seams
Put the rectangles with right sides together and stitch the side seams with a 1/2 inch seam allowance. Use a seam finish on the sides. 
A simple zig-zag stitch is the easiest to use if you don't have a serger is 
Step 3: Casing
On the top of your skirt, press the raw edge over by about half an inch. Then, press it over again by 1 inch to create a casing. If you have a fabric clothing label, insert it just beneath the casing fold at the back of your skirt.
Stitch around the casing, leaving a gap of about 1 inch on one of the sides.
Step 4: Elastic
Cut the elastic, making sure that it has the same length as your waist plus 1 inch for the overlap. Attach a large safety pin to one end and thread it through the casing. 
Next, pin the ends of the elastic together and try the skirt on for comfort. If necessary, cut a little extra off the elastic.
Overlap the ends of the elastic by 1 inch and stitch. By stitching 2 rows you will achieve a nice flat join for your elastic.
Push the elastic back inside the casing, and then stitch the gap to close the casing.
Step 5: Hem
For the bottom hem of your skirt, press the raw edge up by 1/2 inch. Press it up by 3/4 inch again. Lastly, stitch around the hem.
What Are The Easiests Skirts To Make?
These skirts are very easy to make and usually do not require a sewing pattern. All you need to prepare are your fabric pieces, sewing tools, and measurements
Circle Skirt. You can make this skirt maxi, full, mini, half, or quarter, using a drapey viscose or wax cotton.
Pleated Skirt.  Pleated skirts flatter just about any body type. Plus, most sewers find it satisfying to make with just enough fiddly techniques.
Gathered Skirt. This is quite popular these days since it comes with a lot of fun variation possibilities.
Tutu Skirt. Who says only little girls can wear a tutu skirt? You can wear this on special occasions or a night out with your best pals.
Refashioned Skirt. You can create a skirt out of anything, from your favorite shirt to an old pillowcase or bedsheet.
How Much Fabric Do I Need To Make A Skirt?
The amount of fabric you will need will depend on your skirt project. But regardless of the type of fabric you use, whether it is woven or a knit style, you will need around 2 yards for a straight skirt, 2 1/4 for an A-line, and 2 1/4 yards for a softly gathered skirt. 
For a circle skirt, you need to divide the waist by 3.14. Then add the height of the skits plus 2 inches for the seam allowance. Meanwhile, the amount of fabric you need for a gathered skirt will depend mainly on how much fullness you want your skirt to have. For instance, you can make one gathered skirt from a 60-inch width fabric if you have a 30-inch waistline. Most gathered skirts require approximately 3 yards of fabric.