Have you always wanted to sew a lace dress, but the mere thought of it overwhelms you? Lace is one of those fabrics that's challenging to sew. And for most people, sewing lace brings up thoughts of all kinds of complex professional techniques. 
However, there are some things you can do that can make the entire sewing process easier. With careful planning, ensuring your sewing machine is set up suitably, a few helpful tips, and plenty of patience, you'll find that sewing a lace dress is a simple and satisfying experience. 
In this article, we'll show you how to sew a lace dress and make something elegant while avoiding common problems and achieving the best result possible.
Prepare The Right Tools
One of the biggest surprises about lace is that working with it can be especially forgiving. The sleeves of a lace dress eased in quite easily, and the stitches simply disappear. But the biggest challenge here is that lace tends to stretch. Hence, always make sure to start by equipping yourself with the right tools for sewing lace.
Here are the things that you need to prepare:
Fine sewing pins.
Sewing needles that are sharp. Keep in mind to use stretch needles if you will sew a stretch lace dress. 
A serger machine for sewing seams or a machine that can sew zigzag.
You will need a lot of patience and some planning when sewing a lace dress. Still, the end result is always pretty rewarding as you transform it into an original, unique, and stunning outfit.
Before starting your project, it is vital to layout your lace. Doing so will allow it to stretch and breathe while you consider the best way on how you can bring out all of the lovely designs of your beautiful fabric. If necessary, you may also consider leaving it overnight to allow any wrinkles to relax a bit.
Different Techniques On How To Sew A Lace Dress
You can choose from three different techniques when learning how to sew lace dress. The technique you choose will depend on the kind of lace you will work with:
Working with stretch lace will require a method that can cope with the combination of lace and stretch.
A very see-through, sheer lace will require a lining.
If you will use a fully patterned lace, you may need to partly line it.
How To Sew A Stretch Lace Dress
Treat your stretch lace similar as you would a stretch fabric for preparing and cutting. That means always using a pair of sharp scissors when cutting. 
Likewise, be careful as you cut to prevent stretching the lace out of shape. You can use a sharp rotary cutter, which can provide you with nice, clean edges as well. Also, to avoid skipped stitches, use a stretch needle.
Once you have the pattern pieces of your lace dress ready, decide on which seam style will go well with the finish you want.
Stretch lace seam styles:
Your machine's zigzag stitch will work well. However, do some tension tests first on a piece of scrap fabric before starting. Begin by testing a zigzag stitch with a 2.5-inch length and 1.5-inch width, then adjust to make it suitable for your lace.
If the lace has too much bulk in it, consider using a French seam.
It's a good idea to bias bound seams for strengthening the shoulders of your lace dress. But it can be a bit bulky for the rest of your garment.
It is ideal to utilize a serger to stitch the edges.
Consider playing around a bit and perfect the seam type you think is the most suitable for your fabric and garment.
How To Sew A Sheer Lace Dress
Generally, sheer lace has a more open and finer pattern. Hence, you need to partly line or line your lace dress.
Opt for the lining to show through the lace with the matte side or shiny side up. Alternatively, you can also showcase the intricate design of your lace with contrast lining. Just imagine how beautiful your dress would look if a rose pink is peeking out from behind the white lace.
Before starting, make sure to meticulously pin and baste all the time. Doing so will prevent your lace from slipping and avoid the frustration of unpicking. 
Fully lined option:
Cutting. You can get the most out of your fabric by planning and cutting cleverly. It is advisable to cut the lining out and use it as your pattern pieces for cutting out your lace. This allows you to get the best out of its design.
Ready to sew. Once you have all your pieces ready for sewing, begin by stitching the lining to ensure necklines and similar areas look neat. Then, turn the neatened sections so that the lining is on the inside of your garment. Trim as close as possible to the stitching line.
Darts. To make the darts lie better and look neater, stitch them together applying the lace and lining to fold together to create one stitch line.
Stitch seams. Sew the lace and lining together by sewing the seams. Doing this will prevent the seam from peeking outside of the lining. Both the lining and lace seam will be on the inside of your garment.
How To Sew A Patterned Lace Dress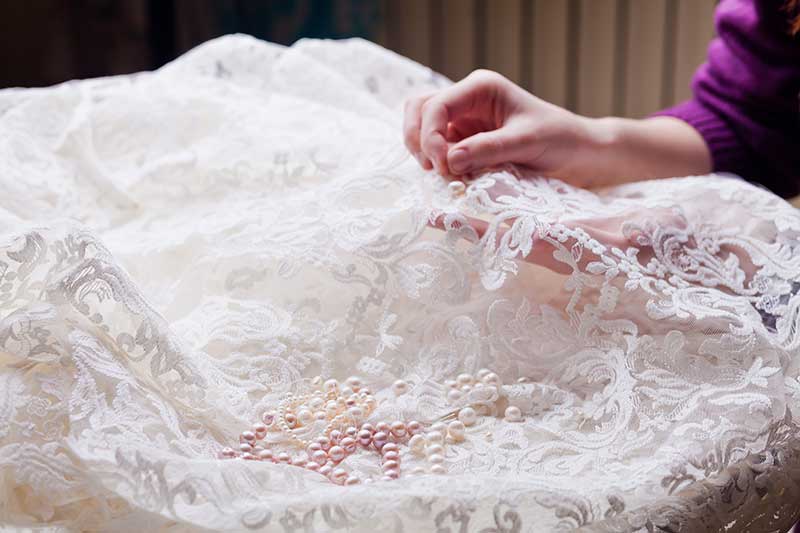 A dress with a patterned lace will usually require seamless seams and partial lining. You will often see this technique applied in wedding dresses where the bodice is partially lined. This is most suitable for laces with a bit more coverage. 
When sewing patterned lace, it is crucial to thoughtfully strategize and plan where you'll place the lace's denser parts. Some of the best examples of these are the numerous dresses you'll see on red carpets. Designers are very strategic at using laces to hide or reveal the body for the best impact.
How to partially line a lace dress:
Place all your pattern pieces on your lace fabric. Then, use a basting thread and needle to baste in the seam lines to clearly see where you need to stitch your lace.
Cut out the pieces individually to match up designs and patterns, allowing you to create a seamless effect.
Cut the pieces of the pattern at the side that you will seam wide. Then, place the thread-marked edges together, ensuring that the lace design matches so that your fabric will appear as one piece. 
Apply the zigzag stitch on your machine and zigzag throughout the detail and design of your lace. It may be necessary to lift the machine foot and turn your lace as you go around its delicate corners.
Once all the pieces are joined together, trim any excess fabric from the back. This will give you that clever seamless effect on the lace. The best scissors for this job to use is a sharp embroidery one.
Decide on which garment pieces will require a bit of lining and which ones will stand-alone showcasing their elaborate design.
With careful planning, the right tools, following these tips, and patience, you'll have an elegant lace dress in time. Keep in mind that the outcome of your hard work will mostly depend on how you interpret the lace design of your choice.